If we will rather die than give up the fight, will unborn generations hear our names long after we are gone and wonder who we were, how bravely we fought, and how fiercely we loved our country? – Ayo Oguntola, Gender and Human Rights Advocate 
A Heart Wrenching Story 
An old woman runs towards the waves of the sea. Her head is filled with thoughts of getting a soft place to fall. She hopes that the strong currents will provide a soft place for her departure. After all, she has nothing else to live for.  Her will to live was shattered when Ciroma, Chukwuma, Adekunle and Ogehenetega, were sent on the sojourn of ghosts by a government that swore to protect them. As tears streamed down her cheeks, she asked the crowds and passers-by who wanted to stop her. "Where are my children?" she kept asking them. "Wetin I dey live for, my world don vanish, wetin remain?" (Why am I alive, my world has vanished. What else is left?) "Chaiiiii! Chinekeee! Osemudiaaa!, why you do me like this"?  (God, why have you done this to me?). Her lamentations run before her as uncontrollable tears trickle down her face. She couldn't be stopped on her quest to be reunited with her children for a possible last time.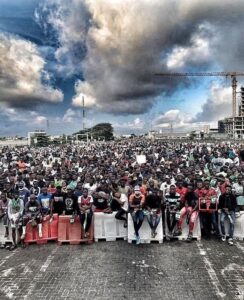 A Call to War
Their offence was to heed a clarion call, in solidarity with other youths. A call to protest and kick against Systematic Injustices, Wanton Corruption, Unabated Police Brutality, Extortion, Robbery, Unlawful Arrest and Detention, Extrajudicial Killing, Indiscriminate Torture. They hoped to push for Social Change, their resolve unflinching; their spirits tough. The widespread knowledge of the problem's systemic roots has made the clamour for positive changes – a systemic revolution – both popular and non-negotiable.
A year ago, vibrant young men and women organised themselves at the barricades for days and nights across the country. The waves of a systemic revolution were sweeping through the country. The old who couldn't join actively threw in their weight of support passively and covertly, sending words of encouragement from behind the lines. For the very first time, in a densely religious – and not very spiritual country like Nigeria – religious leaders from different religions showed their unalloyed and open support for the protesting youths. Similarly, the ethnic lines that divide Nigerians were seemingly blurred.
Public figures who usually would not participate in such activities showed their support and joined in a campaign that soon became a movement defying local borders by canvassing recognition from Nigerians in the diaspora, international organisations and the international comity of nations. Likewise, the Feminist Coalition (unpopularly called the "Feminist Coven") pulled their weight as the vehicle of administration that managed funds, legal, medical and security issues.
The barricades became a Mosque on Friday as Muslims observed their Jumaat Prayer and non-Muslims shielded and join them in prayers. On Sunday, the Christians conducted a unified Church Service, non Christians were in attendance and shielded them as well. All these at the barricades. Never in the history of the sovereign Nigeria, not even the infamous "Ali Must Go" in 1978, the June 12 nor the #Occupy Nigeria Protest in January 2012, has this special bond, love and harmony been openly displayed.
As the bond and unity of purpose grew amongst these youths, they stayed up for almost a fortnight at the barricades shunning their daily bread and "urgent 2k". They resolved to face their fears and confront their demons head-on because their future was far too important to be left in the hands of lifeless leadership, economic parasites and oppressive law enforcers. They mustered the courage to do what other generations failed to do. They tried to make sure unborn generations did not inherit a virus-infested and corruption-ridden society. Their mantra and name, the #Soro-Soke (speak louder) Generation indicating that they are the Woke Generation.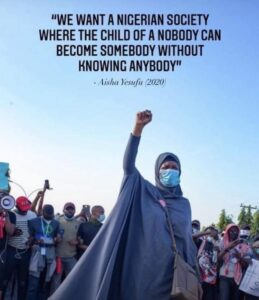 An Army of Songs versus an Army of Guns
Sadly, the #LekkiTollgate, the headquarters of the nationwide protests, became a Slaughterhouse on Tuesday, 20-10-20, as unarmed civilians were confronted with well trained and fully equipped Armed forces. They came with a vast arsenal to 'fistfight'. Protesters were shot at, while they clutched national emblems like the Flag. As the Nigerian army tried to silence them with stray bullets, leading to smoke and fire, and the aftermath of the stampede left many protesters injured, and others dead. Among those who died were the children of the unnamed Old Woman. The Lekki Tollgate, an epicentre of commercial and productive activities, became the theatre of blood and home of an unrestricted massacre, #LekkiMassarce.
Media footage released after the sudden disappearance of Oghenetega, clearly stated their simple demand. "We want a Nigerian Society Where the Child of a Nobody, Can Become Somebody Without Knowing Anybody". While weeping and hysterically smiling, the Old woman asked "were they asking for too much"? "Does it mean every youth with an iPhone, high-end laptop and luxurious car is into cybercrime?" This left bystanders speechless. They were unable to provide a rational explanation for the whereabouts of the 'Fantastic Four' – dead or alive. Footage recorded from an Instagram-Live Video showed where one of the children of the Old Woman identified as Adekunle, groaning in pains and agony said: "if they ever tell my story and if I don't make it through the night, let it be known that I died fighting for freedom". Men rise and fall, but let it be known that we did our best and died for liberty, so generations could read and tell our stories and remember us as heroes."
The Old woman wouldn't stop running, regardless of the brute harshness of the sea. In a loud voice, she said "take me home, I see a piece of Heaven waiting for me, I feel so heavy and I no longer feel alive"
"Oh no!" She screamed, "Take me home, home is where I belong, I can't take this anymore".
Truly, the mighty have fallen and the weapons of battle perished!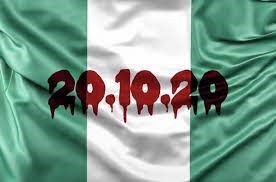 The blood of Adekunle, Oghenetega, Ciroma, Chukwuma Mustn't go in vain.
Today, 20-10-2021, we have run a full circle. 365 days ago, young heroes were bled at the city wall of Lekki. After many months, the silence is deafening, we have been chasing after ghosts. The question "WhoGaveTheOrder?" has remained unanswered. No one has claimed responsibility. The Lagos reconciliation panels have turned out as predicted – A sham, and an effort in futility. The #EndSARS wasn't intended to be a month or a week's campaign but a social change tool to usher in the New Order in the country.
There was a Country
The resounding question is "how better have we fared since the #EndSARS?". Unfortunately, we aren't doing much better. We now find ourselves drowning in inflation with the prices tripling while the naira has only diminished in value and purchasing power. The government boldly speaks of borrowing to service debts. There are increasing levels of insecurity, secessionist agitations and Separationist movements have sprung up across the country, under the watchful eye of the General
Today, as we remember our loved ones who lost their lives as well as those who sustained injured, as we hold our candles on the anniversary of the struggle, My question to you is the same as Paul's question to the Romans
"Shall we continue in sin and ask for the grace to abound? I ask you today; Shall we continue with this same analogue, backward thinking, greedy rulers filled with gluttony and ask for Nigeria to thrive?"
This is a call to action. I charge you to get your PVC, register to vote and let us come together to drive the Nigeria of the youth that we dream of.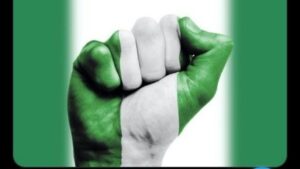 A Prayer for the Bereaved
We pray for the bereaved families to find peace, succour, healing and tranquillity.
May our Maker Heal our Land!
God Bless Nigeria.